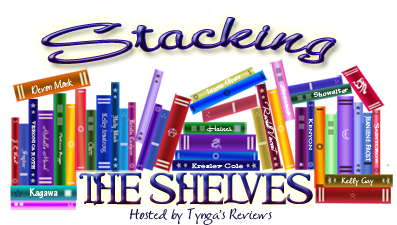 Stacking the Shelves is a weekly meme hosted by Tynga's Reviews, where bloggers share their weekly book hauls! This is my eighth time participating, and I absolutely love showcasing what I received over the week, and seeing what goodies everyone else got, as well!!!
Bought:
Let me just say, that I was doing SO GOOD this week at not buying books. Like with my own money, I mean. But, but, but then my father decides to drop this little gem of information on me a few days ago. There is apparently a super HUGE library book sale in OKC every year, and it just so happens to be this weekend. On the scale of epic book sales, this sale was the type people camp out for like it's black friday and bring wagons/rolling trash cans to. Yes, ROLLING TRASH CANS. Hmm. That sounds like something Becca should go to for sure, right? It totes sounds like a fab idea to load my wagon up in the car and see if I really need it or not, RIGHT? Yeah, no. Because you know what happens? The above picture happens. However, the first stack is my mom's, but altogether we spent just under $40 bucks. Pretty sweet deal. Now, I just have to convince myself that going back on Sunday is a very bad idea for my wallet. We will see how well that goes over! HA!
As for what I got? Well, I just got home from said sale, and I'm completely exhausted from squatting over boxes. I can barely walk up my stairs, peeps. I extreme book shopped today, so that means I'm entirely way too lazy to list and link said books. Sorry! Oh, but if you are in the good ol' state of Oklahoma, this library sale of epic proportions is at the OK Expo Hall at the OKC Fairgrounds, and it's free (and totes worth going to, if you ask me!)
Gifted:
Cruel Beauty
by Rosamund Hodge (From my sister and fam, who gave me bday $)
Won:
No Easy Way Out
by Dayna Lorentz
The Murmurings
*SIGNED*
by Carly Anne West (Plus an awesome swag pack from her twitter account!)
What did you get this week?
Let me know in the comments!! :)
Also, don't forget to enter my two giveaways going on at the moment! Links are to your right in the sidebar! Hopefully that will make up for how HORRIBLY behind I am on comments! I'm working on catching up, I swear!
LOVE YOU ALL!! MWAH!