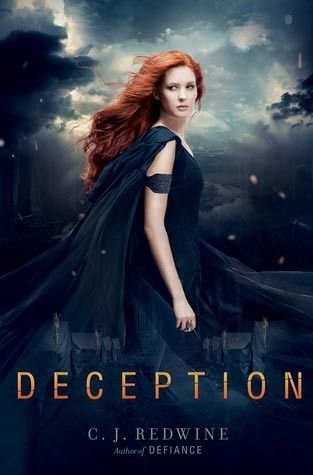 Deception by C.J. Redwine
Series: Defiance #2
Published by: Balzer + Bray on August 27th, 2013
Pages: 480
Format: Hardcover
Genre: Dystopian, Fantasy
Source: Purchased
Rating: 5/5
Buy the Book or Add it to Goodreads
FROM GOODREADS:
Baalboden has been ravaged. The brutal Commander's whereabouts are unknown. And Rachel, grief stricken over her father's death, needs Logan more than ever. With their ragged group of survivors struggling to forge a future, it's up to Logan to become the leader they need- with Rachel by his side. Under constant threat from rival Carrington's army, who is after the device that controls the Cursed One, the group decides to abandon the ruins of their home and take their chances in the Wasteland.
But soon their problems intensify tenfold: someone- possibly inside their ranks- is sabotaging the survivors, picking them off one by one. The chaos and uncertainty of each day puts unbearable strain on Rachel and Logan, and it isn't long before they feel their love splintering. Even worse, as it becomes clear that the Commander will stop at nothing to destroy them, the band of survivors begins to question whether the price of freedom may be too great- and whether, hunted by their enemies and the murderous traitor in their midst, they can make it out of the Wasteland alive.
In this daring sequel to Defiance, with the world they once loved forever destroyed, Rachel and Logan must decide between a life on the run and standing their ground to fight.
MY THOUGHTS:
Upon receiving Deception in the mail, I dropped everything I was doing to dive into the pages. It kept me up late into the night, turning pages with a fevered speed. I usually have a hard time reading middle books in a trilogy, because a lot of them seem to suffer from "middle book syndrome," but that was certainly not the case with Deception. Looking back, I wish I would've held off a little while on reading it, because now I'm dying for the third book, which doesn't come out until August!
There was a TON of character development in this book, and Rachel continued to surprise me with her ability to take the hardest hits to her soul and continue fighting for her life without batting an eye. Ultimately, it breaks her down near the end, and my heart finally broke along with hers. There is so much loss in Deception, and I hated it so much. I was warned by a friend of mine to have lots of tissues and chocolate on hand, because I would need them and I should've listened to her!! Books don't normally affect me the way Deception did. It was one hell of a rollercoaster ride, that's for sure!
We get to learn more of Quinn and Willow's backstory, which I found really interesting and captivating. I had been anxious to learn more about it since they were introduced in Defiance, and C.J. Redwine totes didn't disappoint! Quite a few new characters were introduced in Deception, and I quickly fell for Ian's charm. I really disliked Adam at the beginning, though. He had such a horrible attitude, and I wanted to punch him in the jaw a few times, but by the end of Deception, I was a fully devoted Adam-lover. I totes ship Willow and him!!! SO CUTE!!
There was an abundance of action and twisty turns in Deception. I was constantly trying to figure out who the killer in their midst was, and C.J. completely surprised me with who it was!! WHAT THE WHAT?! The twisty turns were Ca-ray-ZAY, and I loved every one of them!!
I really liked exploring outside of Baalboden even more than we did in the first book. The ruined cities were one of my favorite parts of the book. The description of different things was great, and listening to the character's thoughts of trains and ferris wheels (things they had no idea about) were hilarious to read!!
Overall, I applaud C.J. Redwine with her amaze-balls of a novel. I ended up enjoying Deception even more than I did Defiance! Rachel and Logan, and several other characters definitely hold a very special place in my heart now! But my heart aches at all the loss too!! Waa! Someone hold me!!! If you're looking for a book about surviving against the odds stacked against you, then the Defiance trilogy is definitely one you should pick up! I give it five hearts!
Was this review helpful?
Have you read Defiance or Deception?
Let me know in the comments!
Thanks for visiting Pivot Book Reviews! Don't forget to check out the popular Cover Puppies posts, where I recreate my favorite book covers with my dogs! Also, if you followed me, I would be forever grateful! :)