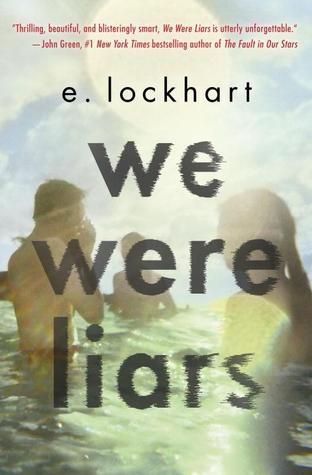 We Were Liars by E. Lockhart
Published by: Delacorte Press on May 13th, 2014
Series: No
Pages: 240
Format: Hardcover
Genre: Contemporary/Mystery
Source: Purchased
Rating: 2/5
Buy the Book or Add it to Goodreads!
FROM GOODREADS:
A beautiful and distinguished family.
A private island.
A brilliant, damaged girl; a passionate, political boy.
A group of four friends- the Liars- whose friendship turns destructive.
A revolution. An accident. A secret.
Lies upon lies.
True love.
The truth.
We Were Liars is a modern, sophisticated suspense novel from National Book Award finalist and Printz Award honoree E. Lockhart.
Read it.
And if anyone asks you how it ends, just LIE.
MY THOUGHTS:
Dear We Were Liars,
You and me? We just can't be friends. I know, I know. I'm the total black sheep with my opinion on you. Everyone else seems to love you! Ironically, this was the exact reason I decided to pick you up. Normally, I wouldn't have given you a second look, because you just aren't my type.
BUT THE HYPE FOR YOU! Wow, there is so much hype revolving around you, and I'll admit it was driving me nuts not being in the know about what you were all about. So I took a risk, but I feel like I'm missing something. Sure, I read you in one sitting, and your prose was beautiful. I was curious indeed. So much drama, and suspense, and lies, lies, lies. I desperately needed to know what the heck was going on, but when I finally found out, I felt a little bit let down. I thought it was going to be something of epic proportions- not something that I had actually already considered was going on. Maybe I would've felt differently if I wouldn't have known you had a certain twist about you. Maybe. But I suppose that's something we will never know.
I wish I could've gone into you a little more blindly, and not seen the amount of hype built up about your shocking ending, because I just wasn't shocked, and really I just want more explanation. I read through you, and deciphered everything I could as I read, because everyone says they want to go back and reread you to see the clues, but I just....*shrugs shoulders*. Overall, you were interesting, but just not amazing to me. I feel more meh about you more than anything.
Not so much love,
Becca
Was this review helpful?
Have you read We Were Liars?
Let me know in the comments
!
As always, thanks for visiting Pivot Book Reviews! <3