Waiting on Wednesday is a weekly event hosted by Breaking The Spine, where you can spotlight an upcoming release that you're eagerly anticipating!
This week I'm waiting on:
Dangerous Creatures by Kami Garcia and Margaret Stohl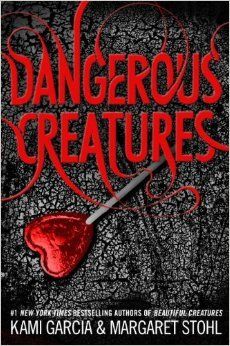 From Goodreads:
A new series returns to the world of Beautiful Creatures. Some loves are cursed...others are dangerous.
Ridley Duchannes will be the first to tell you that she's a bad girl. She's Dark. She's a Siren. You can never trust her, or even yourself when she's around. Lucky for her, Wesley "Link" Lincoln can never seem to remember that; quarter Incubus or not, his heart is Mortal when it comes to Ridley. When Link heads to New York City to start a music career, Ridley goes along for the ride- and she has her own reasons. As if leaving small-town Gatlin for the big city, trying to form a band, and surviving life with a partially reformed Siren isn't hard enough already, Link soon learns he has a price on his head that no Caster or Mortal can ever pay.
Kami Garcia and Margaret Stohl, the #1 New York Times bestselling coauthors of Beautiful Creatures, are back and casting another magical spell. Their signature mixture of mystery, suspense, and romance, along with a dash of fun and danger, will pull fans in and leave them begging for more.
Why I'm waiting:
Uh, HELLO?! It's a spin off of Beautiful Creatures, which I'll admit I tried to read forever ago and couldn't get into, but I recently read them all and loved them this time around. My tastes are always changing! I can't wait to read more about Ridley and Link, and I really hope we will see other characters make appearances too! It sounds awesome!!
What do you think of my choice?
What's your choice for this week's WoW?
Let me know in the comments, and leave me a link to your WoW post, so I can leave some comment love on yours!!
Also, if you followed me, I would love you forever and ever! LET ME LOVE YOU!! *cough* Sorry if that was creepy, but I need MORE book loving friends!! You can never have too many! That's what I always say (or type, in this case!!)
Thanks for visiting Pivot Book Reviews!