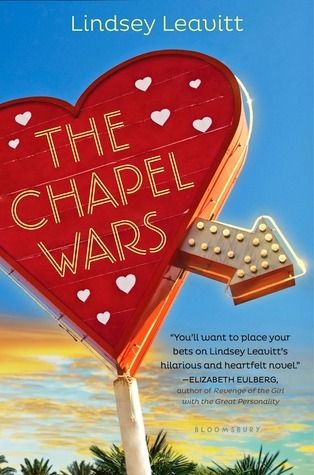 The Chapel Wars by Lindsey Leavitt
Published by: Bloomsbury on May 6th, 2014
Series: No
Pages: 304
Format: Hardcover
Genre: Contemporary
Source: Purchased
Rating: 4/5
BUY THE BOOK or ADD IT TO GOODREADS!
From Goodreads:
Sixteen-year-old Holly wants to remember her Grandpa forever, but she'd rather forget what he left her in his will: his wedding chapel on the Las Vegas strip. Whatever happened to gold watches, savings bonds, or some normal inheritance?
And then there's Grandpa's letter. Not only is Holly running the business with her recently divorced parents, but she needs to make some serious money-- fast. Grandpa also insists Holly reach out to Dax, the grandson of her family's mortal enemy and owner of the cheesy chapel next door. No matter how cute Dax is, Holly needs to stay focused: on her group of guy friends, her disjointed family, work, school, and... Dax. No wait, not Dax.
Holly's chapel represents everything she's ever loved in her past. Dax might be everything she could ever love in the future. But as for right now, there's a wedding chapel to save.
My Thoughts:
Dear The Chapel Wars,
I've had my eye on you for quite a while. Indeed, you have been on my wish list ever since you released. However, at that point in my life, I was not a very big contemporary reader. Fortunately for you and me, over the past year, I've become quite enamored with contemporary fluffy books, so when a trusted blogging friend of mine was fangirling over your witty banter, I was intrigued-- and immediately went online to purchase you. Thank you, Chelsea, for giving me the push I needed to finally buy this super cute book that is The Chapel Wars.
You follow the story of Holly, who is a sixteen-year-old mathematic genius with a huge group of only guy friends, and a love for well....love. After her beloved grandfather's death, she is surprised to find that he left her something unconventional in his will....the ownership of his wedding chapel on the Las Vegas strip. But with that ownership comes a whole lot of drama -- from huge debts to a never-ending feud with the chapel next door, which also happens to have a very handsome guy named Dax. Holly has enough on her plate with having to figure out a way to save the chapel from the bank, but her grandfather left her one other task...to deliver a letter to Dax. A letter that Holly has no idea what it contains. Dax is the one person Holly cannot afford to get involved with, especially at this time in her life, but despite that, she can't keep her mind off of him.
Let me just say that I absolutely adored Holly. She was real, down to earth, and hilarious. I loved her relationship with all of her friends, even if some of the guys could be total assholes to her. As a girl who grew up with mostly guy friends, it was refreshing to see that portrayed in a YA book. Although, I was very happy to see her make her first real girl friend too. Dax......oh, don't even get me started on my love for Dax, who is a cowboy, very gentleman-ly, and adorable. I just wanted to smoosh Holly and Dax's faces together so much. Even though their families are feuding, I shipped them. I have mad love for forbidden/secret romances, and this one totally hit the spot!
Another part that I loved about you, The Chapel Wars, was your unique plot! I can only name a handful of books that I've read based in Las Vegas, and since I recently visited LV, it was fun to read about places that I had been too, and also learn about places that I should have totally visited while I was there. I may or may not have made a list of them for a future visit.
All in all, I adored you. Your cover is to die for. Your characters melted my heart. You had spunk, character, feels...... Honestly, if someone is looking for a cutesy book with loads of heart and fun narrative, you're the book to pick up. They definitely won't be disappointed. I know I wasn't! FOUR HEARTS TO YOU! :)
My heart is yours,
Becca
Have you read The Chapel Wars?
What did you think?
Let's discuss!