Hey Pivot Book Readers!!!! Today I have something super duper exciting to show you.....and maybe a giveaway or two! :) As you all know, I absolutely adored Lailah by Nikki Kelly. (Psst I'm TOTES #TeamJonah btw!) You may have even seen some of the many Lailah totes given away by Nikki that I painted (look for Gabriel totes soooooon!). I had the opportunity to even meet Nikki this past October on the first stop of the Fierce Reads tour, and if you think she is sweet on the internet....well, multiply that times about a billion gazillion, and you will get what Nikki is really like in person! I love her and her books and I miss her dearly!
Oh, but Becca....what about that cover reveal, those giveaways, and exclusive quote you briefly discussed sharing at the beginning of this post? Right. Got sidetracked there for a minute over my gushing....
Without further ado, I present you...
...
...
....
The cover of GABRIEL by Nikki Kelly
(Book Two in the Styclar Saga)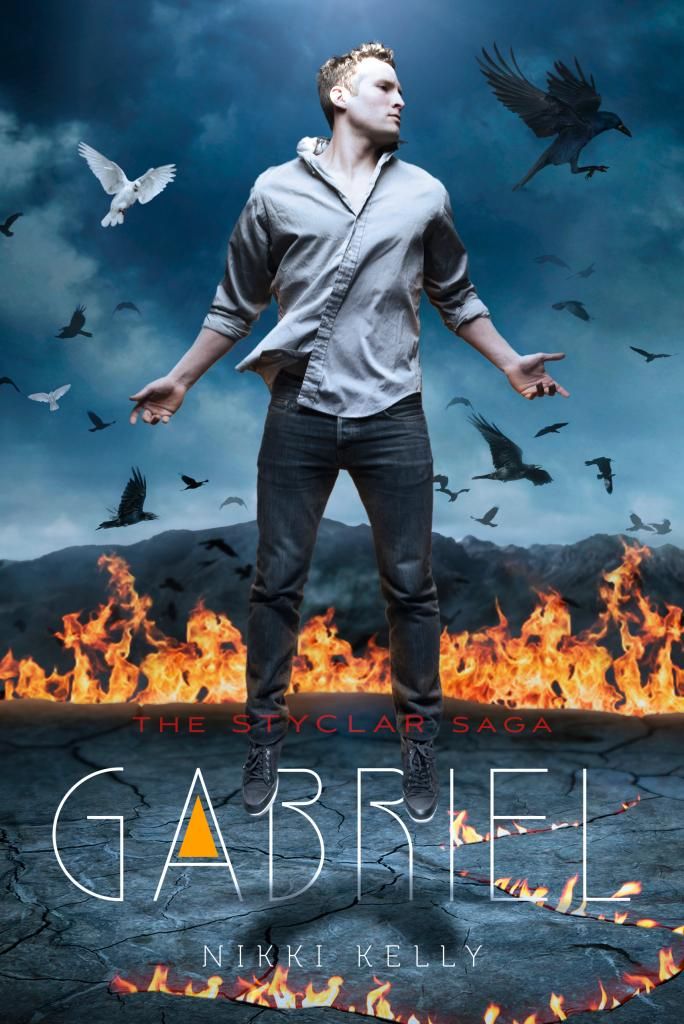 ISN'T IT BEAUTIFUL?! I absolutely love that it matches the same themes of the Lailah cover, and those birds, and flames, and it just really rocks!
BOOK SUMMARY: Gabriel is an angel. He's also an ally to a generation of vampires who want to break away from the demon who controls them. His faith in the power of good over evil waves, however, when he discovers that Lailah, the woman he considers his only true love, may be both angel and demon. Is their love enough to overcome the dark forces who are ready to go to war with Gabriel, the vampire Jonah, and the angel and vampire forces? And can Gabriel compete with Jonah, who is also in love with Lailah?
ON SALE: October 27, 2015 from Feiwel and Friends, an Imprint of Macmillan Children's Publishing Group.
Here's your EPIC excerpt:
Inside my palms, ribbons of black smoke floated from my skin, and a terrible darkness stretched over me. Yet as I met Azrael's eyes once more, they remained cold; still they did not afford me the regret – the repentance – that I desired and deserved. Even as he stood, an inch from death, he would not waver.
"You're not worthy of a mortal existence." I threw my hands up in the air and willed the smoke to levitate, to wrap itself around his throat. But this was not some dark power within me taking hold. While the threat he made on my family may have ignited my reaction, his death would be entirely for me. I wanted it to be slow. I wanted him to suffer.
He was
phlegmatic
as he said, "And you, my daughter, are no different to them."
His words hit me, and I hesitated. The smoke stalled as it weaved a noose around his neck. My shoulders slumped, as though he was on trial and had just outed me as a witch – a confession that might save him from his execution. A sly slant of his eyes told me that he thought I wasn't capable.
--
Don't forget to check out these other amazing blogs for more excerpts and extra chances to win the following prizes!
Thank you so much to Nikki, Ksenia, and everyone at Macmillan for allowing me to be apart of this fantastic reveal!
I'm basically screaming to have Gabriel in my hands right this second, and I hope you are too, because thanks to the generous Macmillan peeps, you have the chance to win either...
1. A hardcover copy of Lailah
2. A galley of Gabriel
That means two people shall win!!! EEP! The way it will work is I will pick two winners randomly via rafflecopter, email them, and the first to respond has first choice, and the other winner shall get the remaining prize. Capiche? Also, this one is US/CANADA only as it is sponsored by the publisher! MAY THE ODDS BE EVER IN YOUR FAVOR! (It's not a proper giveaway if I don't say that!)
a Rafflecopter giveaway
Have you read Lailah?
What did you think?
What do you think of the cover of Gabriel?
Let's discuss!