TBR Thursday is a new weekly meme hosted by the wickedly amazing Sarah, where you pick one book from your TBR that you have owned for three months or more and read it over the week/weekend!
Sounds amazeballs right?! Well, this is perfect for me, because we all know how insane my TBR shelves look, and let's face it, a ton of those books I have had for way over three months. *sad face* BUT hopefully this will help me read some of my older books instead of just focusing on the immediate recently released!
My second pick for TBR Thursday shall be..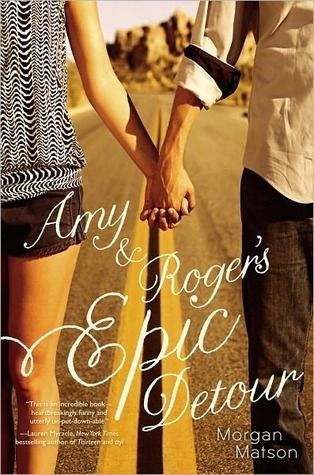 AMY & ROGER'S EPIC DETOUR by Morgan Matson!!
FROM GOODREADS:
Amy Curry is not looking forward to her summer. Her mother decided to move across the country and now it's Amy's responsibility to get their car from California to Connecticut. The only problem is, since her father died in a car accident, she isn't ready to get behind the wheel. Enter Roger. An old family friend, he also has to make the cross-country trip - and has plenty of baggage of his own. The road home may be unfamiliar - especially with their friendship venturing into uncharted territory - but together, Amy and Roger will figure out how to map their way.
**
After reading Since You've Been Gone and absolutely adoring it, I knew I needed some more Morg Mat in ma life ASAP. Yet when I purchased and received A&RED in the mail, it just went to my TBR shelf, and sat....until now! I'm so excited to devour another Morgan Matson book, and all the hype about A&RED has me all ready to dive in! Also, my first TBR Thursday pick was Something Real.. be on the lookout for my review in the coming days! :)
Have you read Amy & Roger's Epic Detour?
Do you participate in TBR Thursday?
Let's discuss!
Thanks for stopping by Pivot Book Reviews, and be sure to stop by Sarah's blog, Words with Sarah, to see what her TBR Thursday pick is this week! <3