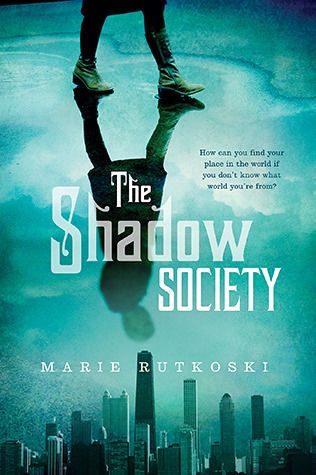 The Shadow Society by Marie Rutkoski
Published by: Square Fish on October 16th, 2012
Series: No
Pages: 448
Format: Paperback
Genre: Paranormal/Science Fiction
Source: Purchased
Rating: 5/5
BUY THE BOOK OR ADD IT TO GOODREADS!!
FROM GOODREADS:
Darcy Jones doesn't remember anything before the day she was abandoned as a child outside a Chicago firehouse. She has never really belonged anywhere- but she couldn't have guessed that she comes from an alternate world where the Great Chicago Fire didn't happen and deadly creatures called Shades terrorize the human population.
Memories begin to haunt Darcy when a new boy arrives at her high school, and he makes her feel both desire and desired in a way she hadn't thought possible. But Conn's interest in her is confusing. It doesn't line up with the way he first looked at her.
As if she were his enemy.
When Conn betrays Darcy, she realizes that she can't rely on anything- not herself, not the laws of nature, and certainly not him. Darcy decides to infiltrate the Shadow Society and uncover the Shades' latest terrorist plot. What she finds out will change her world forever...
In this smart, compulsively readable novel, master storyteller Marie Rutkoski has crafted an utterly original world, characters you won't soon forget, and a tale full of intrigue and suspense.
MY THOUGHTS:
Dear The Shadow Society,
I've been wanting to pick you up since the moment I discovered the amazing-ness that is your author, Marie Rutkoski. I read her other novel, The Winner's Curse, at the beginning of the year, and fell in love. I knew I had to have more of her writing before the next installment of TWC series came out, and when I discovered you, I was simply ecstatic. My best friend, Sarah, suggested we do a buddy read of you at the beginning of the month, and we devoured you within a day and a half. In a nutshell, you were exhilarating.
Your main character, Darcy, was abandoned at a firehouse in Chicago as a young child, and doesn't remember anything before that moment in her life. Shuffled around foster homes, Darcy has never felt like she truly belonged anywhere, which is understanding when she actually belongs in an alternate universe full of paranormal creatures called Shades. Darcy unknowingly begins having memories of this Shade world when a mysterious boy named Conn shows up and befriends her, but little does Darcy know that Conn is about to betray her and fully open her eyes to her past.
Darcy was a one-of-a-kind character. I loved her, and her silly group of friends from page one. It also helped that your author, Marie, included a character who loved Star Trek. I fell in love with Jims the moment he started talking about the Borg. I grew up a Trekkie, you see. However, I was a little iffy about Conn from the beginning. There was just something I didn't trust about him. Darcy initially feels the same, but stupidly decides to ignore her instincts and pays for it later.
Darcy ends up in the alternate world full of Shades and a society called The Shadow Society, and has to infiltrate the Shades to earn her ticket back to our world- Darcy's home. Shades are some crazy creatures. Basically they can turn into ghosts, but they are like terrorists. They love to kill humans, and not only kill, but murder in creeptastic ways. I can kind of understand why the humans of that world hate Shades so much. I wasn't too big of a fan of any of the Shades that Darcy allies with actually. They all seemed conniving to me.
Secrets are unveiled throughout your course of action and adventure, and slowly along the way, I fell for Conn. I ended up swooning for the guy I initially hated. Bravo, Marie! All in all, The Shadow Society, you were a fantastic read. I almost wish you were a part of a series, so I could learn more about this alternate world and what happens in it after your thrilling conclusion, but still, I loved you just as much as I did TWC. Honestly, I don't think I could pick which of the two of you I love more, and for that reason, I give you five humungous hearts of love!!!
Love always and forever,
Becca
Have you read The Shadow Society?
As always, thanks for visiting Pivot Book Reviews! I wuv you all! <3