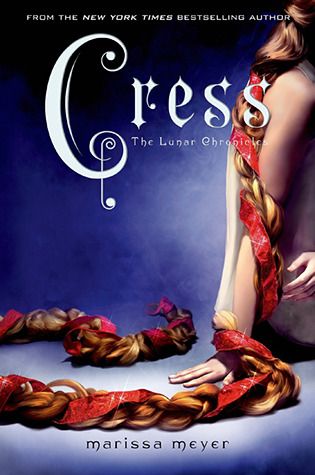 Cress by Marissa Meyer
Published by: Feiwel & Friends on February 4th, 2014
Series: The Lunar Chronicles #3
Pages: 550
Format: Hardcover
Genre: Fantasy, Science Fiction, Dystopain, Retelling
Source: Gifted
Rating: 4/5
BUY THE BOOK or ADD IT TO GOODREADS!
FROM GOODREADS:
In this third book in the Lunar Chronicles, Cinder and Captain Thorne are fugitives on the run, now with Scarlet and Wolf in tow. Together, they're plotting to overthrow Queen Levana and her army.
Their best hope lies with Cress, a girl imprisoned on a satellite since childhood who's only ever had her netscreens as company. All that screen time has made Cress an excellent hacker. Unfortunately, she's just received orders from Levana to track down Cinder and her handsome accomplise.
When a daring rescue of Cress goes awry, the group is seperated. Cress finally has her freedom, but it comes at a high price. Meanwhile, Queen Levana will let nothing prevent her marriage to Emperor Kai. Cress, Scarlet, and Cinder may not have signed up to save the world, but they may be the only hope the world has.
MY THOUGHTS:
Dear Cress,
Let down your hair... oh, wait. Uh... well, this is awkward. Anyways *ahem* Granted, you do have Rapunzel's hair. I'm just not sure it would reach me from Outer Space. You continue the fairytale retellings that started The Lunar Chronicles series with Cinder and it's follow-up, Scarlet. Your main character, Crescent is stuck in a satellite by her lonesome until Cinder and her crew, including the super swoony Captain Thorne, come to her rescue.
I'll admit. You were slow going at first. I was ecstatic about you, because I mean, you're a Rapunzel retelling, which just happens to be one of my very favorite fairytales. However, it killed me to get through the first 50 or so pages. I actually put you down for a bit, and picked up another book. But I got my butt in gear, and pushed through. I'm so so so happy I did, because after that slow beginning, WOW! You...what did you do to me?! I couldn't turn the pages fast enough.
Cress. Oh, how I fell in love with Cress. She's so cute, and her reactions to things on Earth are adorbs. Then there's Thorne. My heart really palpitated for Thorne. Oh gosh, just thinking about it, makes my heart beat faster. I SHIP THEM SO HARD.
Of course, we see glimpses of Cinder, Scarlet, Wolf, Iko, Emperor Kai, and all our other characters and are introduced to few new ones as well. Lots of action. Lots of swoonage. Lots of tears. Yes, there were some sad parts in you, Cress. But you were just simply amazing. Honestly, you have been my favorite of the series, hands down, and the fact that I'm having to wait until NEXT winter for Winter just grinds my gears, because you have a killer cliffhanger. But it's okay, because we just got word about a new book in your series about Queen Levana. Oooooh. How exciting, right?! All in all, you were a fab contribution to your series, Cress. Fans of this series will not be disappointed, that's for sure! I know I wasn't!
Flailing hard over you,
Becca
Have you read Cress?
What did you think?
Let's discuss!