Book Pre-Pushing is a post inspired by The Perpetual Page-Turner's Save the Date feature. Every once and a while, I get the chance to read a book that doesn't release until later in the year, and as such, I can't post my review until closer to that date. BUT I really need to flail about said book, and since I like to push books into people's hands, I thought I could list a few reasons why I want to pre-push, per say, this book before I share my review!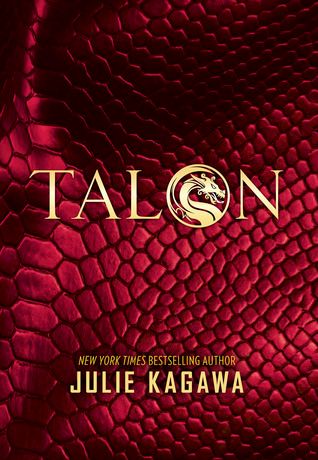 Talon by Julie Kagawa
Published by: Harlequin Teen
Releases on: October 28th, 2014
Series: Talon #1
Pages: 400
Format: ARC
Genre: Fantasy, Paranormal
Source: Won
FROM GOODREADS:
Long ago, dragons were hunted to near extinction by the Order of St. George, a legendary society of dragon slayers. Hiding in human form and growing their numbers in secret, the dragons of Talon have become strong and cunning, and they're positioned to take over the world with humans none the wiser.
Ember and Dante Hill
are the only sister and brother known to dragonkind. Trained to infiltrate society, Ember wants to live the teen experience and enjoy a summer of freedom before taking her destined place in Talon. But destiny is a matter of perspective, and a rogue dragon will soon challenge everything Ember has been taught. As Ember struggles to accept her future, she and her brother are hunted by the Order of St. George.
Soldier Garret Xavier Sebastian has a mission to seek and destroy all dragons, and Talon's newest recruits in particular. But he cannot kill unless he is certain he has found his prey: and nothing is certain about Ember Hill. Faced with Ember's bravery, confidence, and all-too-human desires, Garret begins to question everything that the Order has ingrained in him: and what he might be willing to give up to find the truth about dragons.
First reaction to synopsis: I wasn't sure if Talon was going to be my type of read. I couldn't get past the fact that dragons were hiding in a human's body. *face palm* I guess I didn't really realize they were like shape shifters, except with dragons.
First reaction after reading: Holy sh*t. Move over, Khalessi. There's a new Mother of Dragons in town. Forget Winter. Talon is Coming.
Reasons to pine after Talon:
The world was unlike anything I've ever read. I seriously want MOAR backstory. I want to see more inside Talon, because it was so engrossing to me. I love secret societies. The backstory/world of Talon was actually what kept me flipping pages to begin with.
DRAGONS. Seriously, besides the Defiance trilogy, I haven't personally read many YA books with dragons. Let alone, a dragon as a main character. This was a refreshing change in an oversaturated market full of all kinds of paranormal creatures.
Multiple POVs. Not only do we get the story from the dragon herself, Miss Ember Hill. We also get swoony soldier Garret's, as well. Later on, we are also introduced to a certain rogue dragon, but personally, I was all caught up in

Garret

and Ember to care too much about him. I really liked seeing the opposite sides of the story from different POVs. I related more to Garret and Ember because of it.
SWOONS. I don't know what it was about Garret, maybe the whole soldier aspect of it, but boy, I was flailing over this particular boy. Can I have one?
Rebellious, action-packed plot. Talon is not lacking in the action department. I was on the edge of my seat throughout the entirety.
That ending. The first book hasn't even released, and I am DYING inside because I need the second installment SO BAD!!
Talon has hands-down lived up to every expectation.

Julie Kagawa

is always a master story weaver! Consider yourself pre-pushed into reading Talon this fall! Trust me, you don't want to miss it! Still not convinced? Look for my review at the end of September!