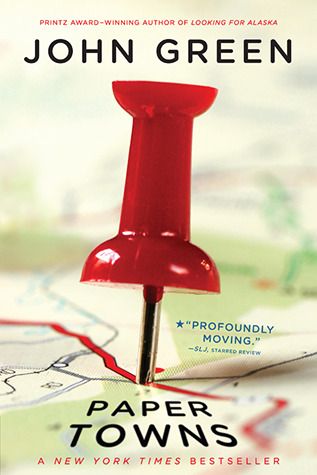 Paper Towns by John Green
Published by: Speak on Oct 16th, 2008
Pages: 305
Format: Paperback
Genre: Contemporary
Source: Purchased
Rating: 2/5 hearts
Buy the Book or Add it to Goodreads!!
FROM GOODREADS:
Quentin Jacobsen has spent a lifetime loving the magnificently adventurous Margo Roth Spiegelman from afar. So when she cracks open a window and climbs back into his life- dressed like a ninja and summoning him for an ingenious campaign of revenge- he follows.
After their all-nighter ends and a new day breaks, Q arrives at school to discover that Margo, always an enigma, has now become a mystery. But Q soon learns that there are clues- and they're for him. Urged down a disconnected path, the closer he gets, the less Q sees of the girl he thought he knew.
MY THOUGHTS:
Since I've been going through this little Contemporary Reading spurt of mine, I decided to give John Green a chance. I read The Fault In Our Stars when it first released and adored it, and combined with the fact that Paper Towns was just picked up to become a movie, I decided it was the perfect book of his to try next. Unfortunately, it just wasn't my cup of tea.
Paper Towns starts off pretty fast-paced with the night of Q and Margo's shenanigans. I really enjoyed reading all the different ways Margo decided to take Karma into her own hands. They were unique, and equally hilarious and well thought out. I wish I would've had her by my side to help me get back at a cheating ex-boyfriend of mine!! But after that night, Margo simply falls off the face of the planet, and the book's pacing really suffered, in my opinion. I just didn't feel the burning need to read anymore about Quentin's life. He didn't interest me. Margo did. I suppose the only reason I continued to read it (besides my refusal to DNF books) was because I wanted to know where the hell Margo went.
Granted, Q has quite the character arc. He went from being the guy who stands on the sidelines to the guy version of Margo, who stood up for the nerds and took things into his own hands. His fixation on Margo was a little weird though. I mean, they were really good friends when they were younger, but they just stopped talking for years until the random night she basically uses him. I get loving her from afar, and the whole premise of the novel being that you can never truly know someone, but it just weirded me out. Another thing that really pissed me off is when we find out the why's and how's of Margo's leaving. It's kind of hard to talk about without revealing the ending of the book, but it just seemed ridiculous to me. I mean, THAT was the reason you left, Margo?! AND WHAT DO YOU MEAN ABOUT THE SO-CALLED "CLUES"? Sorry if that doesn't make sense to you, but it will if you read the book
In the end, Paper Towns is a good story, despite it's pacing flaws, but like I said before, it just wasn't my cup of tea. Honestly, I'm not sure if I even want to see this made into a movie, and for that reason, I give Paper Towns two hearts.
Was this review helpful?
Have you read Paper Towns?
Let me know in the comments
!
Thanks for visiting Pivot Book Reviews! Don't forget to check out the popular Cover Puppies posts, where I recreate my favorite book covers with my dogs!