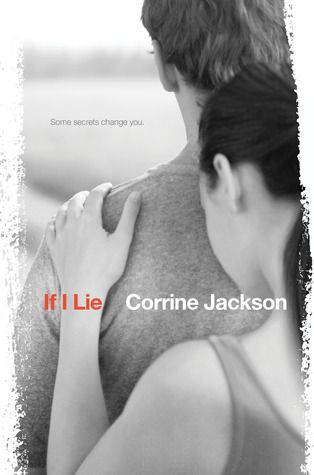 If I Lie by Corrine Jackson
Published by: Simon Pulse on Aug 8th, 2012
Pages: 276
Format: Hardcover
Genre: Contemporary
Source: Purchased
Rating: 5/5
Buy the Book or Add it to Goodreads!!
FROM GOODREADS:
A powerful debut novel about the gray space between truth and perception.
Quinn's done the unthinkable: she kissed a guy who is not Carey, her boyfriend. And she got caught. Being branded a cheater would be bad enough, but Quinn is deemed a traitor, and shunned by all of her friends. Because Carey's not just any guy- he's serving in Afghanistan and revered by everyone in their small military town.
Quinn could clear her name, but that would mean revealing secrets that she's vowed to keep- secrets that aren't hers to share. And when Carey goes MIA, Quinn must decide how far she'll go to protect her boyfriend... and her promise.
MY THOUGHTS:
Wow. This was an intense read. I picked up If I Lie because Jamie from The Perpetual Page Turner was raving about it, and I just couldn't immerse myself in the other book I was trying to read. If I Lie was sitting on my shelf, taunting me to pick it up. I simply couldn't resist, and as soon as I read the first sentences, I was hooked. If I Lie was a book that I knew would keep me up the rest of the night until I finished it. I. Couldn't. Stop. Reading.
I immediately related with Quinn. I went through some intense bullying during my senior year, and the emotions Quinn was feeling were a little too close to home. I rooted for her to overcome it all, and hold her head high, but I know from experience, holding your head high when everyone around you completely hates your guts, is one of the hardest things to do. Quinn is the best type of friend to have on top of that. She sticks to her word. Carey lays a pretty heavy secret on her shoulders right before he leaves, and just expects her to deal with it -- without considering the outcome, and Quinn just does it without hesitation. I felt for her though. At some point, keeping another's secret doesn't seem worth it anymore. I'm not sure I would have been able to hold out as long as she did. Teens are cruel creatures, and I hate hate HATE what they do to her.
I was in the mood for a book that would tug at the heart stings, and If I Lie did that- and more. It's been awhile since I've cried from a book, but If I Lie definitely fixed that. If I Lie is not a light read. I absolutely loved reading about her relationship with George, and all their photography lessons. George is basically the only person Quinn has, and even then, she doesn't out Carey. The big secret was one I didn't see coming, but when it was revealed, I sort of felt like I knew it was going to be that. All in all, if you want to read a book that beautifully combines the horrors of high school bullying and the nonjudgemental close relationship between a young, strong girl and a senile, loving old man, If I Lie is a book you shouldn't miss. If I Lie gets five hearts from me!
Was this review helpful?
Have you read If I Lie?
Let me know in the comments
!
Thanks for visiting Pivot Book Reviews! Don't forget to check out the popular Cover Puppies posts, where I recreate my favorite book covers with my dogs!