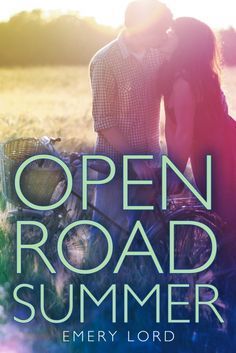 Open Road Summer by Emery Lord
Published by: Walker on April 15th, 2014
Pages: 342
Format: Hardcover
Genre: Contemporary
Source: Purchased
Rating: 5/5
Buy the Book or Add it to Goodreads!!
FROM GOODREADS:
After breaking up with her bad-news boyfriend, Reagan O'Neill is ready to leave her rebellious ways behind... and her best friend, country superstar Lilah Montgomery, is nursing a broken heart of her own. Fortunately, Lilah's 24-city tour is about to kick off, offering a perfect opportunity for a girls-only summer of break-up ballads and healing hearts. But when Matt Finch joins the tour as its opening act, his boy-next-door charm proves difficult for Reagan to resist, despite her vow to live a drama-free existence. This summer, Reagan and Lilah will navigate the ups and downs of fame and friendship as they come to see that giving your heart to the right person is always a risk worth taking. A fresh new voice in contemporary romance, Emery Lord's gorgeous writing hits all the right notes.
MY THOUGHTS:
Dear Open Road Summer,
WOW! For once, I can say that I'm glad that I listened to all the Hype Monsters that have been plaguing my Twitter feed the past few weeks. You have been one of the most talked about books recently. I can honestly say, I haven't seen ONE bad thing said about you. Of course, I haven't dug through reviews or anything, but everyone just raves and raves and RAVES about you, and boy, oh boy! THEY WERE SO SO SO RIGHT!! I bought you on the hunch that I would soon be one of those raving fools, and SUCCESS!
I simply cannot get enough of your cuteness. The friendship between Reagan and Dee (Lilah) is one of the most beautifully written friendships I have ever read. It reminded me of my own best friend, Christina, in so many ways, and had me reminiscing not only our tons of crazy adventures together, but the way we are always there for one another- NO MATTER WHAT. That's the truest form of best friendship. You were such a refreshing pick for me to read at this time in my life, because even though, my best friend and I are going down different paths in our lives, we still stick by each others side. Plus, it's actually our five year friend-a-versary this week, so winning! I like to think that Reagan and Dee would be the type of besties that would be crazy enough to celebrate their friend-a-versaries as well!
Now, on to your insane swooniness. *fans self* WHERE CAN I FIND A MATT FINCH OF MY OWN?! Any ideas? Because I want- No, I NEED one! Stat. Matt Finch has easily landed a spot on my Top Five Book Boyfriends list. Every lady deserves a Matt Finch in my opinion, and I am super glad that I pre-ordered you so I was able to get an "I LOVE MATT FINCH" pin from Emery. It's easily one of my new fav pins!
Honestly, there's really nothing bad I can say about you, Open Road Summer. You were fantastic, amazing, wonderful, da bomb diggity.... I could go on and on and on, but I'll refrain- for now. My fellow readers should prepare themselves for the major book pushing I'm preparing to do for you! I sincerely hope your author, Emery Lord, writes more Reagan and Dee stories. I wouldn't mind reading a spin-off book told from Dee's POV, because I would totes be down for that!!!! For now though, I'll just have to settle for rereading you all the time, and that's why I give you the highly coveted rating of FIVE hearts! WOOT!
Love Always,
Becca
Was this review helpful?
Did you like this new way of reviewing or the old way better?
Have you read Open Road Summer?
Let me know in the comments
!
As always, thanks for visiting Pivot Book Reviews! <3