Well, hello, my lovelies!
Wait, you might be wondering what the deal is. Who is this person? Where has she been lately? I've missed her tons!
Well, for that, I have to say I'm so so so sorry. I've been really crappy about uploading blog posts/reviews lately. I didn't really want to talk about why, but I have a few reasons. Well, first, I recently read an MS that I wrote last year, and have been deep in editing mode, because believe it or not, it was actually quite good. I'd been dreading this for awhile, because I thought it was a load of crap, but I had the weekend off and just decided to dive in. It definitely was a lot less horrible than I was expecting, and I've been stuck in that world for a little bit lately. (Actually, a lot) But still, it feels great to finally be writing something again. Who knows? I may even submit it to SwoonReads this month. Nikki Kelly & Temple West (and countless others) are urging me to, so this may be the first time I succumb to peer pressure!
Anyway.... the second reason, if you haven't noticed lately, I created an Etsy shop about a month ago! Yes, yes I know. Some of you might not know that I enjoy painting/drawing in my spare time, but now you do! I started painting bookish totes as a side gig, just to do something special for some close friends, but they were a hit on the interwebz, and suddenly, everybody wanted one. So to say I've been busy would be a complete understatement.
I've been swamped!!!!
But the good thing is, all the proceeds I make from selling my bookish totes are going to send me to BEA next year so I can meet some of you IRL! EEP! I can hardly contain my excitement, because with each tote I paint, I get closer to making that goal, and I'm quite close actually! Thanks to all of you!!!
Okay. Now to the good stuff.
Over the recent months, I've been contributing reviews over on

Reading Teen

(so if you miss me on here, you can check over there and usually there's something to satisfy your missing Becca needs!), and I love it, and Andye. We've become great friends, and I'm dying to meet her! I've already warned her that she's going to be mauled by hugs, because seriously she is the sweetest person I've ever met! <3
After I read & LOVED (actually fangirled over in my review) Black Ice by Becca Fitzpatrick, we decided to do a giveaway. Not just any giveaway but one that was extra special for all of you anticipating the release of Black Ice. Ready to see what it is?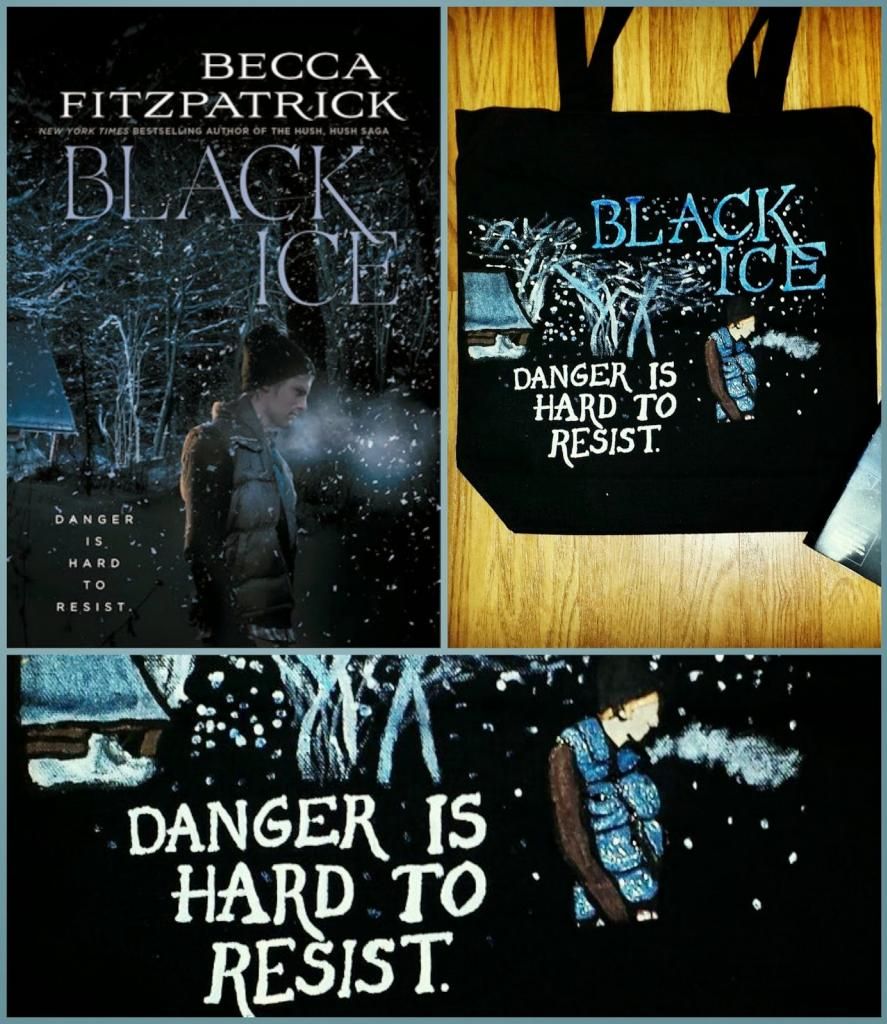 Heck yeah. I totes (haha get it) had to paint a Black Ice tote after all my love-age of that book.
So not only do you get an original handpainted (by yours truly) Black Ice tote, but Andye (because she pretty fantastic) also has an ARC of Black Ice up for grabs with it!!
You seriously do NOT want to miss out on your chance to win! Enter away, my friends! Alas this giveaway is for US ONLY, because unfortunately, Andye & I haven't completed World Domination yet, and are still lowly bloggers who aren't rich. I wish I was though. ONE DAY IT WILL HAPPEN! Til then, you can check out my Etsy and custom order a tote or even a pre-made one. I hear the Fangirl, Eleanor & Park, and Ruin & Rising totes are quite a hit. But don't take my word for it. Go see for yourself!
(Seriously, it made me cry it's so sweet!)
P.S. Did you notice anything different about the blog? WHAT IS THIS ADORABLE PUPPY NESS?! Well, I won a new custom blog design from Stephanie @ ThesePaperHearts, and didn't she do a fabulous job?! Completely perfect for Pivot Book Reviews! Thanks again Stephanie!
P.P.S Still want some more bookish tote-ness? (Look at all the customs here, here, AND here. I think that's all of them!) <3