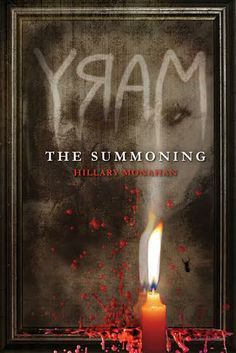 Mary: The Summoning by Hillary Monahan
Published by: Disney-Hyperion on September 2nd, 2014
Series: Bloody Mary #1
Pages: 256
Format: ARC Paperback
Genre: Horror
Source: For Review
Rating: 2/5
BUY THE BOOK or ADD IT TO GOODREADS!
FROM GOODREADS:
There is a right way and a wrong way to summon her.
Jess had done the research. Success requires precision: a dark room, a mirror, a candle, salt, and four teenage girls. Each of them-- Jess, Shauna, Kitty, and Anna-- must link hands, follow the rules...and never let go.
A thrilling fear spins around the room the first time Jess calls her name: "Bloody Mary. Bloody Mary. BLOODY MARY." A ripple of terror follows when a shadowy silhouette emerges through the fog, a specter trapped behind the mirror.
Once is not enough, though-- at least not for Jess. Mary is called again. And again. But when their summoning circle is broken, Bloody Mary slips through the glass with a taste for revenge on her lips. As the girls struggle to escape Mary's wrath, loyalties are questioned, friendships are torn apart, and lives are forever changed.
A haunting trail of clues leads Shauna on a desperate search to uncover the legacy of Mary Worth. What she finds will change everything, but will it be enough to stop Mary-- and Jess-- before it's too late?
MY THOUGHTS:
Dear Mary: The Summoning,
Well, that's quite a long name, so I'm just gonna call ya Mary from here on out? Kay? Anyways, I've always been intrigued about horror stories, but have yet to find one to thoroughly creep me the heck out. I was hoping you would change that for me. Did you? Not so much. You had some gory and disgusting scenarios in you, sure, but you seemed to just get repetitive with things, and I lost interest quick unfortunately.
I love horror. I watch horror movies all the time, and Bloody Mary? Who hasn't played that game? It still scares the bejeezus out of me! I figured that would be enough to scare me, but it just wasn't. Maybe part of the reason was because your characters Shauna, Jess, Anna, and Kitty just made such dumb decisions, and continued to make them even though they knew better! It annoyed me so much that I shut you and let you sit on my nightstand for a week and a half before I guilt tripped myself into finishing you, because I have a thing about not finishing books. I mean, what if I stopped reading you right before a part happens that would make me love you? Very rarely does that happen, and it didn't with you either.
I guess the only reason I'm really giving you two stars is because you were different. The description was great, and you were very fast-paced. I think most horror fans will love you, but for someone who is hard to scare and watches so much horror stuff such as me? Well, you unfortunately didn't do much, Mary. I'm disappointed that I didn't love you. I guess if someone is looking for a quick, scary story worthy of a sci-fi channel movie, then you are the book to check in to! Other than that, I felt you had a brilliant premise that was just executed poorly. Honestly, I didn't even know you were part of a series until I started this review, but I won't be picking up the sequel. You didn't give enough time for me to connect to the characters to care about what happens to them. You were better than some of the recent horror books I've read *cough* like Welcome to the Dark House *cough* but not much.
Meh,
Becca
Have you read Mary: The Summoning?
What did you think?
Let's discuss!