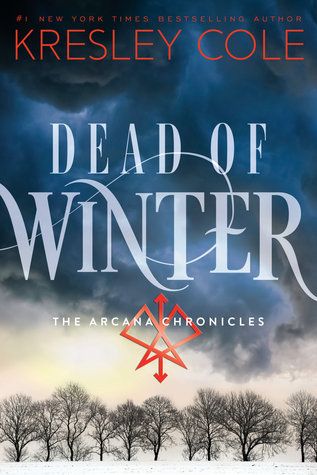 Dead of Winter by Kresley Cole
Published by: Simon & Schuster on January 6th, 2015
Series: The Arcana Chronicles #3
Pages: 336
Format: Paperback
Genre: Fantasy
Source: Purchased
Rating: 3.5/5
BUY THE BOOK or ADD IT TO GOODREADS!
From Goodreads:
Can Evie convince her rival loves to work together? Their survival depends on it in this third book of #1 New York Times bestselling author Kresley Cole's Arcana Chronicles, a nonstop action tale of rescue, redemption, and a revenge most wicked.
Heartbreaking decisions
Evie was almost seduced by the life of comfort that Death offered her-- until Jack was threatened by two of the most horrific Arcana, The Lovers. She will do anything to save him, even escape Death's uncanny prison, full of beautiful objects, material comforts...and stolen glances from a former love.
Uncertain victory
Despite leaving a part of her heart behind with Death, Evie sets out into a frozen and perilous post-apocalyptic wasteland to meet up with her allies and launch an attack on The Lovers and the vast army they command. Such formidable enemies require a battle plan, and the only way to kill them once and for all may mean Evie, Jack, and Death allying. Evie doesn't know what will prove more impossible: surviving slavers, plague, Bagmen, and other Arcana-- or convincing Jack and Death to work together.
Two heroes returned
There's a thin line between love and hate, and Evie just doesn't know where she stands with either Jack or Death. Will this unlikely trio be able to defeat The Lovers without killing one another first?
My thoughts:
Dearest Dead of Winter,
Oh, how I have pined over you for the past year! Waiting, waiting, and waiting, because your predecessor...holy crap! That was one very painful cliffhanger!!! When I saw you sitting all pretty on Walmart's shelves, out early mind you, I pounced on you, and immediately dove into your pages the moment I returned home.
Dead of Winter, you are the third book in the Poison Princess series, (so this review could be spoilery for anyone who hasn't read the previous two books and if you haven't read them, OMG WHAT ARE YOU WAITING FOR?! GO GO GO!!!) and you follow Evie after her desperate escape from Death's mansion to go rescue her love, Jack, in a post-apocalyptic wasteland full of baggers, slavers, plague, and other Arcana. Once Death shows up to their new camp, Evie has her work cut out for her trying to convince Death and Jack to work together in unison to attack The Lovers and rescue someone dear to them all.
I want to say I loved you as much as I did your previous two books. I want to say it so dang bad, Dead of Winter!!! But I just....I can't. I'll be straight up with you right off the bat. I'm a Death girl. Sure, I somewhat tolerated Jack in the beginning, but he mostly just got on my nerves, and then after Endless Knight, I was head over freakin' heels in love with Death. Anyways, I think the reason that I didn't love you as much as I did was because so much of your plot focuses on Evie making a decision between Jack and Death. SO MUCH OF THE PLOT. I can deal with love triangles when they don't overtake the entire plot, but this time, it just seemed like it did. To me, it felt like none of the other threats in the world mattered to Evie, because all she could think about was, "Oh Em Gee, Who do I love more...Jack or Death?" I got sick of listening to her compare them to each other, when Jack was so clearly still going behind her back and not doing the things he promised her he would.
Okay, rant over. But other than that major factor into your plot, I enjoyed you. I didn't speed read you by any means, because I had to keep setting you down due to love triangle induced frustration, but all the elements from your previous books that I completely loved are still to be found inside your pages. Evie's funny inner monologue and jokes, H.O.T. and S.T.E.A.M.Y. scenes to satisfy both sides of the love triangle teams, crazy new Arcana card characters that you meet, gory gore, and just amazing world-building. I absolutely love all of those things in a book, and you delivered them without a fault. I just wish there would've been less focus on the two boys. Wait, am I feeling alright? Less boys, and more action?! Maybe I have a fever or something. Nope. I'm good. I really wanted more action from you, Dead of Winter. Less time spent warring over indecision.
While you were frustrating at many points, you still had me on the edge of my seat, and gosh darn your author, Kresley Cole!! She gave an even worse cliffhanger than in Endless Knight, but one that I can sit comfortably with for now. Although some might not feel the same as I do, once they read it. Some will be utterly devastated with that ending of yours, Dead of Winter. Although you weren't the best of the three Arcana novels so far, I still enjoyed you, and I'm desperately awaiting the next book in your series and praying that my team will prevail in the end!!!!! I couldn't decide between a three and a four when it came to rating you, so I went in between with a 3.5! I'm anticipating exploring more of this well-crafted world of yours, meeting even more new characters, and having more sexy times between Aric and Evie! <3
Pining over Aric,
Becca
Let's discuss!
Have you read Dead of Winter?
What did you think?