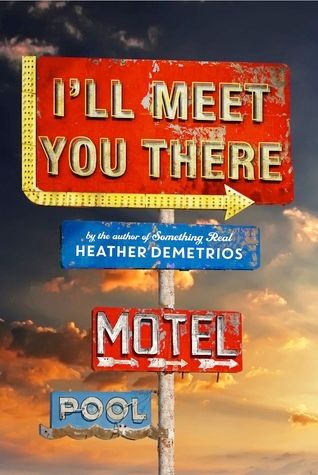 I'll Meet You There by Heather Demetrios
Published by: Henry Holt on February 3rd, 2015
Series: No
Pages: 400
Format: Paperback ARC
Genre: Contemporary, Realistic Fiction
Source: For Review
Rating: 4/5
BUY THE BOOK or ADD IT TO GOODREADS!
From Goodreads:
If seventeen-year-old Skylar Evans were a typical Creek View girl, her future would involve a double-wide trailer, a baby on her hip, and the graveyard shift at Taco Bell. But after graduation, the only thing standing between straightedge Skylar and art school are three minimum-wage months of summer. Skylar can taste the freedom-- that is, until her mother loses her job and everything starts coming apart. Torn between her dreams and the people she loves, Skylar realizes everything she's ever worked for is on the line.
Nineteen-year-old Josh Mitchell had a different ticket out of Creek View: the Marines. But after his leg is blown off in Afghanistan, he returns home, a shell of the cocksure boy he used to be. What brings Skylar and Josh together is working at the Paradise-- a quirky motel off California's dusty Highway 99. Despite their differences, their shared isolation turns into an unexpected friendship and soon, something deeper.
My Thoughts:
Dearest I'll Meet You There,
I was so very excited to get the chance to read you before you released, because I loved your author's previous book, Something Real, oh so much. There's been a lot of buzz about you too. Lots of people absolutely LOVED you, and while I didn't hate you, I don't think I was all googly eyes at you either sadly.
You follow the story of Skylar Evans, who is stuck in a po-dunk town for one last summer after graduation, before she can get the heck out of dodge and go to college instead of sticking around and likely becoming pregnant. But all of that changes, when her mom loses her job at the Taco Bell and refuses to get another, forcing Skylar to start working another job, besides the one at the Paradise, a fun themed Motel on the side of a major highway. Then, there's Josh Mitchell, who got out of their town by joining the Marines, and returned after getting his leg blown off overseas. Working at the Paradise motel brings Skylar and Josh together, and despite their very different lives and personalities, they become friends and something even more.
I really liked both Skylar and Josh. They both had their own issues in their lives, but they felt real to me. They were both tortured with their decisions and what to do with their futures. Parts of you are told in Josh's journal form, and those parts tore my heart to pieces because they were so devastating and cruel. It's not often that a character can make me feel that way, but Josh did. I just wanted him to get better, because he deserved better in life, and the same with Skylar. It frustrated me that she cared so much about what her mother was doing, because her mother was an idiot and never helped Skylar, but she bent over backward for her. I think my absolute favorite part of you was when Josh would ask Skylar, "How's the Sky today?" and she would respond, "Cloudy, etc."
I know I said I didn't absolutely love you, but I really did enjoy you. I sped through you, and thought it was a great story, but it just felt like something was missing for me. Sometimes issue books work for me, and sometimes they don't. It could have been the timing I read it. Nevertheless, I think you, I'll Meet You There, are definitely a book worth checking out, and I urge all my readers to do so. If they are looking for a book to completely gut them, and then put the pieces back together again, then you're exactly what they need to pick up. It's not often that a young adult book talks about someone coming out of war and how it affects them. I commend your author for going there, because she did it brilliantly. Four stars to you, I'll Meet You There!!!
Love always,
Becca
P.S. And that Author's Note? Yup, totally made me cry.
Have you read I'll Meet You There?
What did you think?
Let's discuss!