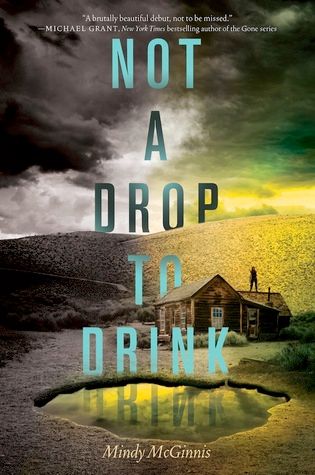 Not a Drop to Drink by Mindy McGinnis
Published by: Katherine Tegen Books on Sept 24th, 2013
Series: Not a Drop to Drink #1
Pages: 320
Format: Hardcover
Genre: Post-Apocalypitic
Source: Gifted
Rating: 5/5
BUY THE BOOK or ADD IT TO GOODREADS!!
FROM GOODREADS:
Regret was for people with nothing to defend, people who had no water.
Lynn knows every threat to her pond: drought, a snowless winter, coyotes, and, most importantly, people looking for a drink. She makes sure anyone who comes near the pond leaves thirsty, or doesn't leave at all.
Confident in her own abilities, Lynn has no use for the world beyond the nearby fields and forest. Having a life means dedicating it to survival, and the constant work of gathering wood and water. Having a pond requires the fortitude to protect it, something Mother taught her well during their quiet hours on the rooftop, rifles in hand.
But wisps of smoke on the horizon mean one thing: strangers. The mysterious footprints by the pond, nighttime threats, and gunshots make it all too clear Lynn has exactly what they want, and they won't stop until they get it….
With evocative, spare language and incredible drama, danger, and romance, debut author Mindy McGinnis depicts one girl's journey in a barren world not so different than our own.
MY THOUGHTS:
Dear Not a Drop to Drink,
Whoa. Hold up a minute. You were sitting on my shelf for how long? Since Christmas? WHY?! I am shaking my head at myself for how long I made you sit there unread and unloved, but fear not, I spent an entire day swallowed up in the trenches of your fabulous plot, and I don't regret a single second of it. You were a refreshing drink of water in a world drowning in dystopian. (Horrible pun, btw) You were exactly the type of book that made me fall in love with dystopian/post-apocalyptic stories in the first place, and have made me fall in love with it all over again.
Your storyline follows Lynn, who lives in a world where water is scarce, and therefore has to spend her life protecting her and her mother's lifeline, their pond, from all types of predators- human and animal. But after Lynn's mother dies, it's all up to Lynn to survive on her own and keep the predators at bay, with just a little help from some new friends.
Your world was terrifying. No water. I couldn't even imagine. I drink mostly water as it is, but after finishing you, I'm savoring every single drop that touches my tongue. The picture painted with your words was all too frightening and realistic. Something like this could very well happen in my lifetime, and it's scary to consider. On top of all that, you tout crazy gun-weilding humans, coyote-dog hybrids, and disease. *shudders*
Your characters also rock, Not a Drop to Drink. I loved Lynn so much. I instantly connected to her character, and the way she was feeling. I simply could not put you down because I cared about Lynn that much. Whenever I was making dinner, I was snatching you up while boiling stuff on the stove, just so I could catch a few more sentences. I couldn't take not knowing what was happening in Lynn's world while I was cooking in my own. I also seemed to pick up her preferred curse words, and have been saying, "Asshole" and "Son of a Bitch" a lot more as of lately. Her character arc from not trusting anyone at the beginning to finally relying on other people was beautifully written, and I loved falling in love and learning to trust the newcomers along with Lynn. Stebbs was a hoot. I felt a particular fondness for him for some reason. Maybe because of the stubborn-ness between him and Lynn. My dad and I are a lot like that. We butt heads quite a bit, but I love him to death. I also fell for Lucy more and more as I flipped through your pages. I would've reacted much like Lynn did to the child at the beginning, and ultimately evolved to caring for her the same way.
If I were to change absolutely anything about you, though, I think I would've added a smidge more romance to you. Granted, I love the slow burn, and I totes shipped what was going on between Lynn and Eli, but I just needed a bit more to feel that connection to the absolute fullest, ya know?
Other than that, you were truly magnificent. Now, I finally know what everyone was talking about when they referred to you. You deserve all the hype and more. I will be recommending you to anyone and everyone and pushing you into their hands. In fact, I already shoved you into my mother's hands (she devoured you in a day as well and LOVED you just as much as I) AND bought a copy for my best friend! I am shouting to the blogosphere not to give up on Post-Apocalyptic stories just yet, because if they do, they will be missing out on one of the absolute best ones I've ever read. Yes, I'm referring to you. Stop blushing! I wish I could give you all the hearts, but alas, my rating system is only 1-5... Do you have any clue what I'm giving you? No? FIVE HEARTS to you, Not a Drop to Drink. Your author, Mindy McGinnis, wowed me with the wonderful debut that you are and I'm anxiously awaiting your step-sibling/cousin (?), In a Handful of Dust, to release. Counting down the seconds, actually.
Loving you (and water) always and forever,
Becca
Have you read Not a Drop to Drink?
What did you think?
Did you love it, meh-it, or hate it?
Either way, I'd love to hear your thoughts!
Let's discuss!