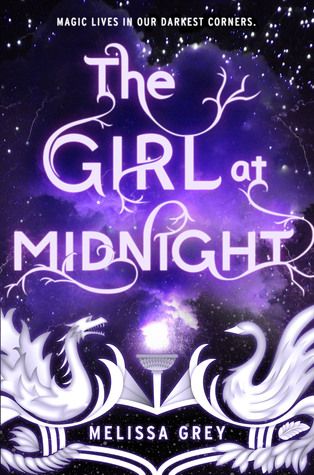 The Girl at Midnight by Melissa Grey
Published by Delacorte Press on April 28th, 2015
Series: The Girl at Midnight #1
Pages: 368
Format: ARC Paperback
Genre: Fantasy
Source: For Review
Rating: 5/5
BUY THE BOOK or ADD IT TO GOODREADS!
From Goodreads: For readers of Cassandra Clare's City of Bones and Leigh Bardugo's Shadow and Bone, The Girl at Midnight is the story of a modern girl caught in an ancient war.
Beneath the streets of New York City live the Avicen, an ancient race of people with feathers for hair and magic running through their veins. Age-old enchantments keep them hidden from humans. All but one. Echo is a runaway pickpocket who survives by selling stolen treasures from on the black market, and the Avicen are the only family she's ever known.Echo is clever and daring, and at times she can be brash, but above all else she's fiercely loyal. So when a centuries-old war crests on the borders of her home, she decides it's time to act.
Legend has it that there is a way to end the conflict once and for all: find the Firebird, a mythical entity believed to possess power the likes of which the world has never seen. It will be no easy task, but if life as a thief has taught Echo anything, it's how to hunt down what she wants... and how to take it.
But some jobs aren't as straightforward as they seem. And this one might just set the world on fire.
My Thoughts:
My Sweet, Beautiful, Epic, etc. The Girl at Midnight,
Oh, wow. I had heard some pretty epic things about you. Yes, I did. But I was wary, because usually when books are hyped, Becca is the black sheep and ends up not liking said-hyped book. Thank the Book Gods, this was not the case with you! I devoured you. Stayed up late into the night, indulging myself in all your glory. You. Are. A. Must. Read. Simply put. But hey, this is a review letter right? I probably should say some more than that, huh? ;)
You follow the story of Echo, a runaway thief who sells stolen wares on the black market, and also is sheltered by a pretty interesting hidden ancient race of feathered and magic-weilding people called Avicen. But a centuries-old war is brewing between the Avicen and another magical race (DRAGONS, PEOPLE!!!!!), and Echo brings it upon herself to find a way to end it once and for all, by finding a mythical entity believed to possess power the likes of which the world has never seen, aka the Firebird. Echo might be able to track this Firebird down, but it might not be as easy as she expects.
From your first page, I fell for Echo. She's officially one of my new top fave fictional homegirls. I mean, come on, she's down to earth, sarcastic, hilarious, loves food, lives in a LIBRARY. What's not to love about this girl? Oh, I forgot, she's also a badass. I loved her loyalty to the Avicen people, but I really adored her relationship with the Ala and Ivy. It was so genuine and real that it moved me. I cared about all of these characters right out of the gate, because they just felt so real, if that makes sense. But the one I really fell for was Caius. I wasn't sure if I was going to like him at first, but oh my dear, I totes swooooooooned over the moon for this boy, which I guess I can't really call him considering his age and all, but whatevs! He deserved to be the Prince, one hundred percent. He actually cared about his people, and didn't look down upon them from his throne. As for his sister, Tannith, well, she be cray, but I'd be lying if I said I wasn't curious about her. I would love to see more backstory or a short story from her perspective, because despite her intense level of evil-ness, I still think she's a pretty badass character. I feel as if I'm rambling a lot about all your characters, The Girl at Midnight, but I just can't help it! I loved them all, so I'm going to try to just say one more sentence about them, and I'll move on, I swear! Jasper and Dorian, I adored them both- their banter, complexity, all of it (yup, I ship it!).
Your world-building is phenomenal. It kept me glued to the story and begging for more, because it was so well thought out, intricately weaved, and completely new to me. AND THE MAGIC?! Why can't this magic be real? It is so neat, and if we could just discover something like this, I'll be happy forever. Well, minus the whole war part, and bad spells, and stuff like that, kay?
So I've seen comparisons of you to Daughter of Smoke and Bone, Shadow and Bone, City of Bones (what's with all these titles with 'bone' in them? And is it just me or is it weird that all of the ones you are compared to have that word in them?) I admit I did see some hints of these other books in you. HOWEVER, your story was still completely unique and those slight similarities didn't make me love you any less. I barely even noticed them, and honestly, there isn't a book out there that isn't in some way like another book. Nothing is entirely new in this world, and that's okay!
The Girl at Midnight, you were fantastic, flippin' gripping, swoony, dragon-y (yes, this is a word to me, and yes, it's very important that it's included!), beautifully written (seriously the quotes in your pages are ALL write-down-able worthy), and like I said earlier, not to be missed. You're a new favorite of mine for sure, and I am dying to find out what is next for all of these newly dear to my heart characters (and ships!!!!!!!!!!!!) FIVE HEARTS TO YOU!
NEEDING MOAR OF YOU LIKE YESTERDAY,
Becca
P.S. Your cover is totally rad!
Have you read The Girl at Midnight? What did you think? Did you gain a bunch of new OTPs like me? (I NEED SOMEONE TO DISCUSS THEM WITH ASAP!) What do you think of all the comparisons to other books? Did you see any of the similarities? If you haven't read it, are you dying to? What part makes you want it in your hands this very second? Let's discuss!

**According to FTC Guidelines, I must state that I received a free Advanced Reading Copy of this book in exchange for an honest review. This in no way effected my opinion of said book.**