I have a very special treat for you guys today! What is that treat? Well, it has to do with Compulsion by Martina Boone AND a freakin' awesome giveaway! Trust me, you don't want to miss out on it...there's signed books, swag, and quite possibly some hand painted totes by me (psst there is!)
But first, a little about the book and the author!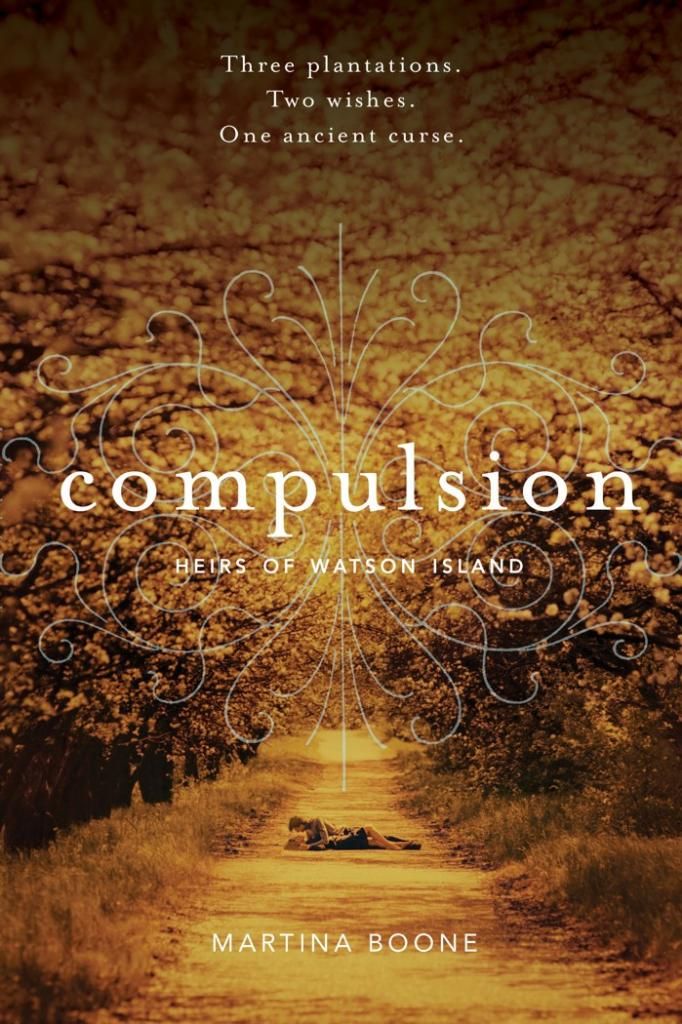 Compulsion
by Martina Boone
Coming

October 28th
Simon & Schuster/Simon Pulse
Three plantations. Two wishes. One ancient curse.
All her life, Barrie Watson had been a virtual prisoner in the house where she lived with her shut-in mother. When her mother dies, Barrie promises to put some mileage on her stiletto heels. But she finds a new kind of prison at her aunt's South Carolina plantation instead--a prison guarded by an ancient spirit who long ago cursed one of the three founding families of Watson Island and gave the others magical gifts that became compulsions.
Stuck with the ghosts of a generations-old feud and hunted by forces she cannot see, Barrie must find a way to break free of the family legacy. With the help of sun-kissed Eight Beaufort, who knows what Barrie wants before she knows herself, the last Watson heir starts to unravel her family's twisted secrets. What she finds is dangerous: a love she never expected, a river that turns to fire at

midnight

, a gorgeous cousin who isn't what she seems, and very real enemies who want both Eight and Barrie dead.
"Darkly romantic and steeped in Southern Gothic charm, you'll be compelled to get lost in the
Heirs of Watson Island
series." -- #1 New York Times Bestselling Author Jennifer L. Armentrout
"A fresh twist on the Southern Gothic — haunting, atmospheric, and absorbing." -- Claudia Gray, New York Times bestselling author of A THOUSAND PIECES OF YOU and the Evernight and Spellcaster series
"
Compulsion
is a stunningly magical debut with a delicious slow burn to be savored. I want to live in this story world!" -- Wendy Higgins, USA Today and NYT bestselling author of the
Sweet Evil Trilogy
from HarperTeen
Martina Boone was born in Prague and spoke several languages before learning English. She fell in love with words and never stopped delighting in them. She's the founder of AdventuresInYAPublishing.com, a Writer's Digest 101 Best Websites for Writers site, and YASeriesInsiders.com, a site devoted to encouraging literacy and all this YA Series.
From her home in Virginia, where she lives with her husband, children, and Auggie the wonder dog, she enjoys writing contemporary fantasy set in the kinds of magical places she'd love to visit. When she isn't writing, she's addicted to travel, horses, skiing, chocolate flavored tea, and anything with Nutella on it.
***
And now, what you've all been waiting for.. the amazing trailer! Full of swoony boys, and fire, and southern accents....I want an accent like that!
Finally, for the giveaway! Check out *some* of the super cool prizes YOU could win! But be sure to remember my special key code for extra entries!
BUT WAIT! THERE'S MORE!
If you can figure out what the letters stand for in my special key code, I'll send YOU some special Compulsion swag! Are you game? I'll even give you a hint! (It's in one of my Book Pre-Push posts! I'll even

color code the words

for you! The first FIVE people to correctly guess the words that each letter in my key code stands for, and comments the answer on this post...WIN! Easy Peasy. Don't worry. The comments won't be published until I approve them! Be sure to leave your e-mail too, so I have a way to contact you! May the odds be ever in your favor!! *US ONLY*