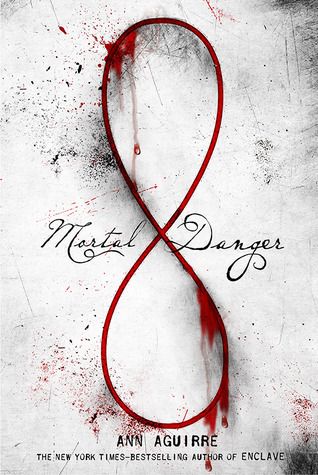 Mortal Danger by Ann Aguirre
Published by: Feiwel & Friends on August 5th, 2014
Series: Immortal Game #1
Pages: 372
Format: ARC
Genre: Fantasy, Paranormal
Source: For Review
Rating: 4/5
BUY THE BOOK or ADD IT TO GOODREADS!!
FROM GOODREADS:
Revenge is a dish best served cold.
In Ann Aguirre's Mortal Danger, Edie Kramer has a score to settle with the beautiful people at Blackbriar Academy. Their cruelty drove her to the brink of despair, and four months ago, she couldn't imagine being strong enough to face her senior year. But thanks to a Faustian compact with the enigmatic Kian, she has the power to make the bullies pay. She's not supposed to think about Kian once the deal is done, but devastating pain burns behind his unearthly beauty, and he's impossible to forget.
In one short summer, her entire life changes and she sweeps through Blackbriar, prepped to take the beautiful people down from the inside. A whisper here, a look there, and suddenly... bad things are happening. It's a head rush, seeing her tormentors get what they deserve, but things that seem too good to be true usually are, and soon, the pranks and payback turns from delicious to deadly. Edie is alone in a world teeming with secrets and fiends lurking in the shadows. In this murky morass of devil's bargains, she isn't sure who- or what- she can trust. Not even her own mind.
MY THOUGHTS:
Dear Mortal Danger,
Where do I begin? You are a bullied soul's dream wrapped up in a beautiful sounding package. That is what initially caught my attention about you. Right in the midst of my bullying, I would've loved the idea of getting revenge on the bullies. Looking back now, not so much, because well, that's in the past, and it doesn't hurt as much anymore. Of course, I never took it to the extreme of considering suicide, though.
You follow Edie, who is a girl that loves to read, and is made fun of for no other reason than because she is fat and ugly and not up to the standards of the beautiful rich people of Briarwood Academy. She has planned everything out regarding her suicide, but right before she does it, a handsome stranger stops her and offers her three wishes if she agrees to the terms he sets forth, which basically says that after she uses her wishes, she must return the favor to the powers that be. But things start going south after she returns from the summer, and gets an in with the popular crowd. Granted she never wishes it, but former bullies are starting to get what's coming to them, and it just continues to get worse from there. But what keeps going through Edie's mind is whether this is all real or a figment of her imagination.
I really enjoyed Edie for the most part. I mean, there was so much to relate to. The reading aspect. The fact that she was bullied. The fact that she was described as ugly and fat. Her wanting to be pretty. At that time in my life, I wanted those same exact things. It may have sounded a little vain, but I understood, because I've been through that myself. It's hell. But she really grabbed my attention with the Star Trek, Doctor Who, Star Wars, etc. references. Gosh that was so so awesome. As far as Kian goes, I didn't get too swoony over him, because I couldn't let myself trust him too much. I didn't know if he was lying or which angle he was working, so I found it hard to swoon over someone I thought might deceive Edie in the end. And also the fact that I kept stumbling over his name. I'm still not positive how to say it.
I loved all your sci-fi gadgetry as well. Gosh, some of your stuff was so cool. For instance, Edie's plastic surgery, persay. I was hooked on you from that point on. Plus, your mythology/paranormal-ness. I think, Mortal Danger, you are the first book to give me goosebumps. I wanted to sleep with a night light on after reading you, because gore galore! And monsters! And all the creeptastic things!
Overall, I can see why some people didn't like you, and I don't think you are a book that everyone will love, but I personally did love you, Mortal Danger. I want more of you as soon as possible. Ann Aguirre, your author, knows how to spin a tale, and I can't wait to see what's in store for Edie in your coming books! You were spine-tingling and cringe-worthy, but I loved nearly every word of you! Four hearts to you!!!!
Still have that night light on,
Becca
Have you read Mortal Danger?
As always, thanks for visiting Pivot Book Reviews! I wuv you all! <3
*As according to FTC Guidelines, I must state that I was graciously provided with an advanced copy of this book in exchange for an honest review. This did not effect my review in any way.*