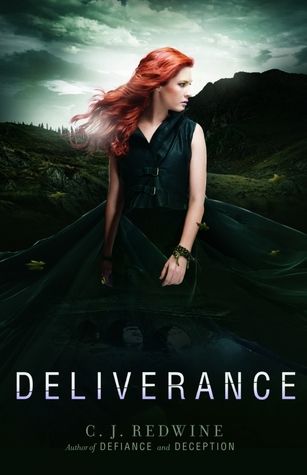 Deliverance by C. J. Redwine
Published by: Balzer & Bray On: August 26th, 2014
Series: Defiance #3
Pages: 480
Format: ARC
Genre:
Fantasy, Science Fiction, Dystopian
Source: For Review
Rating: 5/5
BUY THE BOOK or ADD IT TO GOODREADS!
FROM GOODREADS:
Everything hangs in the balance, and nothing is certain: Rachel has been kidnapped by enemy forces and is being taken to Rowansmark while Logan, imprisoned and awaiting trial, is unable to leave Lankenshire. Separated from each other and their Baalboden comrades, each must find a way to achieve what they desperately want: to rid their world once and for all of the Commander and the tech that controls the deadly Cursed One.
Fighting through her pain and embracing the warrior she's become, Rachel will do whatever it takes to escape her enemies' clutches and join Logan in his fight. But when she learns a secret that changes everything, she realizes that escaping Ian and his tracker friends is no longer an option if she wants to save the people she loves. Instead, she'll have to destroy Rowansmark from the inside out- if she can survive the journey through the Wasteland.
Logan needs allies if he wants to thwart Rowansmark's power grab and rescue Rachel. But securing allies will mean betraying his beliefs and enlisting the help of the man he hates more than anyone: Commander Jason Chase. Driven by his fierce love for Rachel and his determination to make their world safe, Logan may just be the weapon the city-states need to defeat the Cursed One.
But as Rowansmark bears down and uneasy alliances are tested, will Rachel and Logan's love for each other be enough to surmount the unbelievable odds against them?
MY THOUGHTS:
Dear Deliverance,
WOW! Just, wow!!! Did I say "Wow" yet? Because WOWWWW! Sorry, Deliverance, I tend to lengthen certain words and capitalize all the letters when I'm extremely excited about something, and you are something I'm EXTREMELY excited and satisfied with. You were just unbelievably amazing, and I'm so incredibly devastated that I have to say goodbye to your world. I love you so much. I don't want to say goodbye to these characters!!
Ahem. Anyways, your predecessor books were every bit as amazing as you are. I bought Defiance when it first came out, and didn't read it for like a year and a half. Until my friend told me, I needed to do it right that second. I did. I'm so glad I did, and that she pushed it on to me, because I was hooked! And after Deception? Gosh, I was seriously marking down the days on my calendar until you released. I was lucky enough to get an early copy of you, and I'm sorry it took me so long to read you. Me=busy busy busy right now. But every second I wasn't reading you, I desperately wanted to be.
Rachel and Logan are one of my favorite OTP's ever, and it was killing me that they were separated most of the book. What each of them went through was excrutiating. It felt like I was going through that pain with them. But each and every one of your characters are so strong and resilient. It make take them a while to get to that point, but they overcome, and that's what I love so much about your author, C.J. Redwine. If she wasn't already on my auto-buy list before I read you, Deliverance, (SHE WAS) she would definitely be now!
Your action was spot-on. Suspense! Lies! Deception! AND an OH MY GOD WHAAAAAT?! moment. Actually maybe a few, but one is a really big one. My mouth was hanging open at that part. Me=mind f*cked. There are also many deaths deep inside your pages. I was scared to keep reading because I didn't want one of my favorites to die, because apparently that's some sick thing authors like to do to us now. Plus, I mean, you have dragon thingies in you, and swords, and bomb-ish stuff. People have to die. It's a must. Also that Epilogue? You gave me goosebumps!
All in all, you were a fabulous last installment, Deliverance. I cannot state that enough. I loved every single letter, word, sentence, paragraph, page....oh, you get it? Okay. I'll stop. I think you are an underrated trilogy..one that has been seriously overlooked, and if someone hasn't read your first book (Defiance), I shall plead with them and push them to their nearest book store!! You are a series that MUST NOT BE MISSED! FIVE HEARTS!!
Enchanted by you always,
Becca
P.S. SO MUCH QUINN! I HEART HIM! Back off, everyone, C.J. said he was mine!! :)
Are you looking forward to Deliverance?
Have your read it already?
What did you think?
Let's discuss!