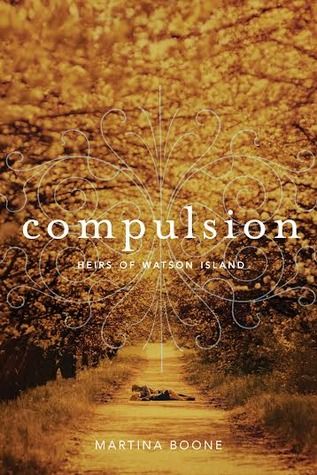 Compulsion by Martina Boone
Published by: Simon Pulse
on October 28th, 2014
Series: The Heirs of Watson Island #1
Pages: 448
Format: ARC - paperback
Genre: Paranormal, Gothic
Source: For review
Rating: 5/5
BUY THE BOOK or ADD IT TO GOODREADS!
FROM GOODREADS:
Three plantations. Two wishes. One ancient curse.
All her life, Barrie Watson has been a virtual prisoner in the house where she lived with her shut-in mother. When her mother dies, Barrie promises to put some mileage on her stiletto heels. But she finds a new kind of prison at her aunt's South Carolina plantation instead -- a prison guarded by an ancient spirit who long ago cursed one of the three founding families of Watson Island and gave the others magical gifts that become compulsions.
Stuck with the ghosts of a generations-old feud and hunted by forces she cannot see, Barrie must find a way to break free of the family legacy. With the help of sun-kissed Eight Beaufort, who knows what Barrie wants before she knows herself, the last Watson heir starts to unravel her family's twisted secrets. What she finds is dangerous: a love she never expected, a river that turns to fire at midnight, a gorgeous cousin who isn't what she seems, and very real enemies who want both Eight and Barrie dead.
MY THOUGHTS:
Dearest Compulsion,
Oh, how I loved you. You were everything I hoped you would be and more!!! Plus, dat cover. So beautiful! (PSST PLEASE DONT CHANGE IT SIMON TEEN!!!) Seriously your cover is one of the most gorgeous covers I've seen this year, and that's saying something because there has been quite a few this year, Compulsion! I was a little nervous when I opened you, because I was scared I wouldn't like you, and I wanted to love you oh so much. Thank the lord I didn't have to worry too long. I was sucked into your southern charm right from the start!
Barrie, your MC, is quite the character. I adored her! She was so headstrong, and reminded me of myself with her stubbornness. (I am quite stubborn, btw) But she also had me giggling up a storm with her antics! I felt bad for how shitty her life seemed to be, but she just kept trucking on with her head held high, and soldiered through the heartache. I commend her strength. I'm not sure how well I would hold up going through losing my mother, and my best friend, and moving to a new very unusual place. Not to mention having a compulsion, seeing ghosts, and then this super swoony boy named Eight Beaufort popping into my life. Oh Eight. *le sigh* Such a southern gentleman! Truly fell for him right alongside Barrie. Some have said you have a tiny bit of insta-love in you, but I say, fear not, dear readers! It is not insta-love, but merely Barrie and Eight being drawn to each other because of their cursed ancestry, and come on, Barrie fights her feelings for the majority of your chapters, and in my opinion, that just doesn't add up with insta-love with me.
Okay. So not only did I love your two main characters, Compulsion. I also loved your secondary characters. Aunt Pru and Mark felt like people I've known my entire life. Your author, Martina, has a way with not only words, but bringing each and every character to life- despite whether they are a main character or not. There were so many times I felt like I was in the room with Aunt Pru, Mark, Barrie, Eight...All of them. You were just real to me in so many ways, Compulsion.
Your setting was down-home southern gothic, which I loved, and don't see much of in the YA atmosphere anymore. I'm glad you were around to fill the void, because you did it beautifully. Not only your setting, but also page-turning suspense. I couldn't read you fast enough, because of all the mysteriousness and the need to know WTH was going on! Oh, and those ghosts? Brilliant.
I may or may not have a compulsion for reading you. (Psst I do) Now I have that "I Put a Spell on You" song stuck in my head, but seriously, you put a spell on me, Compulsion, and I'm dying to know what is next!!!! I mean, honestly. I shall be telling anyone and everyone about you, because you are a must-read of the year, Compulsion. You are the southern gothic that everyone has been pleading and waiting for. Filled with love, loss, revenge, secrets, spirits, curses, and more importantly, Eight Beaufort, what more could anyone want? You nailed it.
Feeling compelled to count down the hours until Persuasion (your sis/bro) releases,
Becca