Hey Pivot Book Readers! *squishes* Please take a moment to welcome debut author Holly Bodger to the blog! She's going to talk a little bit about the setting in her book, 5 to 1, today. I just finished reading 5 to 1 last night, and it is such a great story! I'll have my review up tomorrow, but for now, enjoy this fun post and be sure to enter the giveaway at the end! Trust me, you want this book!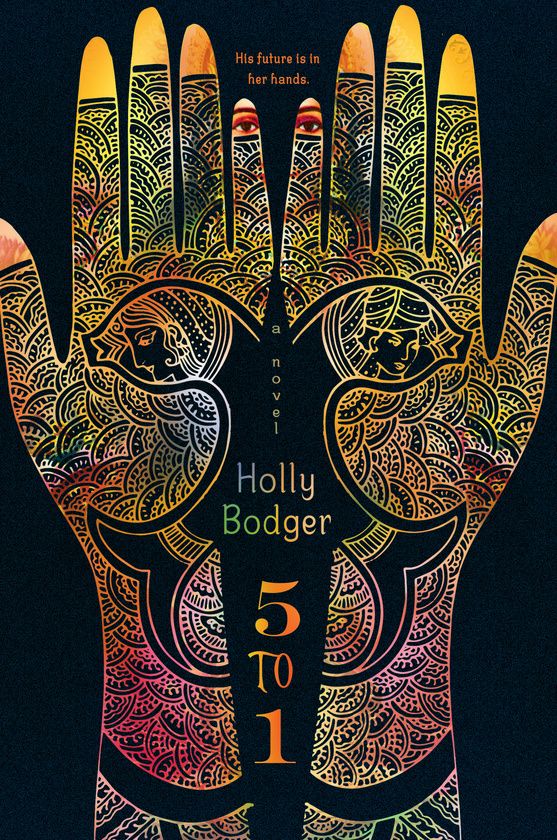 Title: 5 to 1
Author: Holly Bodger
Publisher: Knopf Books for Young Readers
Release Date: May 12, 2015
Summary from Goodreads:
In the year 2054, after decades of gender selection, India now has a ratio of five boys for every girl, making women an incredibly valuable commodity. Tired of marrying off their daughters to the highest bidder and determined to finally make marriage fair, the women who form the country of Koyanagar have instituted a series of tests so that every boy has the chance to win a wife.
Sudasa, though, doesn't want to be a wife, and Kiran, a boy forced to compete in the test to become her husband, has other plans as well. As the tests advance, Sudasa and Kiran thwart each other at every turn until they slowly realize that they just might want the same thing.
This beautiful, unique novel is told from alternating points of view-- Sudasa's in verse and Kiran's in prose-- allowing readers to experience both characters' pain and their brave struggle for hope.
Oh, the Places We'll Go!
5 to 1 is set in Koyanagar, a fictional country that separated from India twelve years before the story takes place. This country is on the west coast of India and has a total population of around 100,000 people. Part of the country is enclosed by a man-made wall (much like the one that used to contain China), and the rest is open to the Arabian Sea.
The story starts off with Sudasa sitting in her luxurious bedroom, fretting about what is about to occur. I imagined something like the room in this picture. It's huge, and has a big bed and windows overlooking Koyanagar. This bedroom would be considered a palace to most of the people in Koyanagar, but to Sudasa, it is the place where she will be dressed and made up before she is forced to marry a boy she doesn't know.
When Sudasa leaves the apartment to go to her tests, she travels in a horse-drawn carriage, something like this. Koyanagar still has some hydroelectricity (controlled by the state, of course), but since they are shut off from the rest of the world, they no longer have petrol (gas) and thus cannot have cars or motorcycles.
Sudasa arrives at the theater that is used for the first test. This theater was once used for the kind of plays Sudasa would love to see with her papa. It had plush velvet seats and boxes painted in red and gold. Unfortunately, after twelve years of tests, it is now worn down. The seat covers are tattered and the plush is flat, making the seats very uncomfortable to sit in for long. Not for Sudasa, though. She gets to sit on a gilded armchair up in one of the boxes.
When I chose this setting, I was imagining some of the old theaters in my city that had been turned into movie theaters. Most had this feeling of lost opulence, and that always made me sad. I adore live theater. I could go every day and not get bored!
When the first test is over, Kiran is sent to a building that used to be a medical clinic, like the one his mother worked at. Now it is used to house the boys competing in the tests. Kiran's room is a cement cell, like the one pictured here. It has a metal cot stuck to each of the walls and a lightbulb buzzing overhead. When in this room, Kiran feels like a tiger trapped inside a cage. He is used to the freedom of his farm and the smell of soil and the sea.
The second test takes place in what used to be a cricket stadium, much like the one Sudasa's father played in when he was known as the Mighty Bala. Unlike the one pictured here, the one in the story has a gravel track around the edge so the boys can run in the second test. There are also sheltered boxes set up around the edge so the girls and their families can watch comfortably.
The final test takes place in what used to be a men's club. Again, I imagined this to be a luxurious setting that the poor could observe from the outside. I used to work in a private golf club, so in my head it was like that. It had a large dining area with huge windows facing the outside. There was a kitchen off this room and then change rooms down the hall.
A lot of the places I chose for the setting of 5 to 1 are ones men used to enjoy. I did this because I wanted to show the irony in the settings. Everything about 5 to 1 is sort of "reversal of fortunes" and I thought the settings should be the same!
About the Author:
HOLLY BODGER has a BA in English Literature and has spent her entire career in publishing. She is an active member of RWA and is a 2013 Golden Heart finalist in the Young Adult category. She lives in Ottawa, Canada.
TOUR SCHEDULE
REVIEW TOUR & GIVEAWAY:
Week 1:
Week 2:
POSTING TOUR:
Week 1:
Week 2:
US/CANADA ONLY
Thanks for stopping by Holly! I loved seeing the pictures of some of the places visited in the book. Thanks to Hannah for putting on such an epic tour, and Random House for providing prizes!