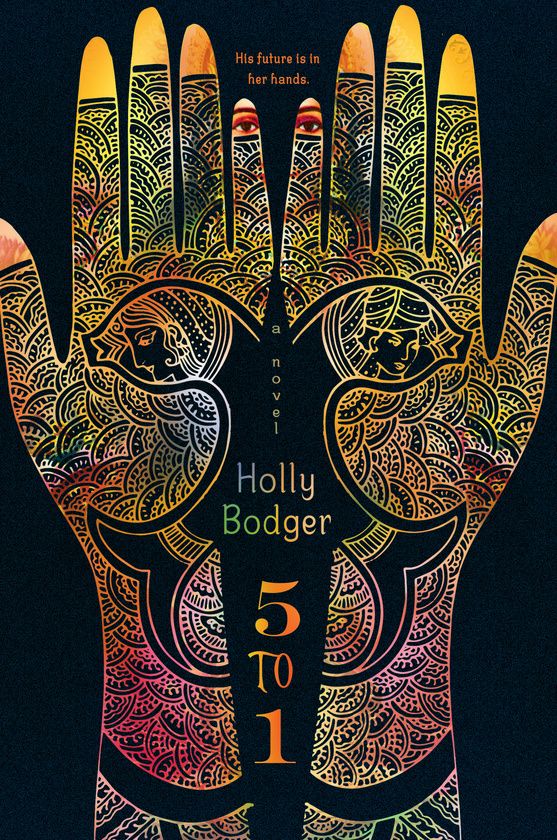 5 to 1 by Holly Bodger
Published by Knopf Books for Young Readers on May 12th, 2015
Series: No
Pages: 224
Format: ARC Paperback
Genre: Dystopian
Source: For Review (Thanks Random House!)
Rating: 3/5
BUY THE BOOK or ADD IT TO GOODREADS!
From Goodreads:
In the year 2054, after decades of gender selection, India now has a ratio of five boys for every one girl, making women an incredibly valuable commodity. Tired of marrying off their daughters to the highest bidder and determined to finally make marriage fair, the women who form the country of Koyonagar have instituted a series of tests so that every boy has a chance to win a wife.
Sudasa, though, doesn't want to be a wife, and Kiran, a boy forced to compete in the test to become her husband, has other plans as well. As the tests advance, Sudasa and Kiran thwart each other at every turn until they slowly realize that they just might want the same thing.
This beautiful, unique novel is told from alternating points of view-- Sudasa's in verse and Kiran's in prose-- allowing readers to experience both character's pain and their brave struggle for hope.
My Thoughts:
Dear 5 to 1,
Let me say first off that the number one thing that caught my eye about you was your FANTASTIC cover. I mean, come on, it is one of the prettiest covers I've seen this year. I know people aren't supposed to judge books by their cover, but I knew I had to get my hands on you simply because of it! And then I read your synopsis....wowza. Alternating chapters between verse and prose?! This could go either very badly or turn out great. Luckily, it was the last one for me.
You follow the story of Sudasa, who lives in a new country in India called Koyonagar. In Koyonagar, the ratio of boys to girls is 5 to 1 (hence your clever little title!), which makes women a pretty valuable commodity. The women who formed Koyonagar eventually came up with the idea to institute a series of tests so that every boy has a chance to win a wife. But Sudasa doesn't want to be a wife. At all. Kiran, a boy forced to compete in the test to become Sudasa's husband, doesn't really want to be a husband either. As the tests further, Sudasa and Kiran try to avoid each other, but slowly they begin to realize they might just want the same thing.
Usually, I'm not a girl who likes books written in verse. They just aren't a "Becca" book. Ellen Hopkins just doesn't do it for me. But my friend LOVES them. So of course, I was a little hesitant. I wasn't sure how the chapters in verse where going to go for me. But I ended up loving them more than I did the chapters in prose! The only thing I would've changed would've been the symbols next to some of your words, 5 to 1. It made the verses stumble a little bit when the rest was fluid. Sudasa and Kiran both have very unique voices. I thought it was funny that they were both avoiding the same outcome as much as possible, but ultimately they wanted the same thing, making them perfect for each other. I wish there would've been a little more background in the beginning of the book, as to the history of what exactly was going on and why. I didn't like that that was held off for so long. It made some parts confusing.
If I were put in Sudasa's shoes, I would freak out. Heck, I'm only 24 years old and the thought of marriage still freaks me out. I'd want to get outta that pickle ASAP. Especially because of who one of her suitors is. *shudders* That's just messed up. Anyway, I loved both of our main characters. I surprisingly loved the prose and the verse. But I really enjoyed the ending. It gives me goosebumps just thinking about it. Although, I would love to find out what happens next for both of our characters, and wouldn't be opposed to a book two! Overall, I would give you, 5 to 1, three stars, because while you aren't a favorite of mine, you were a fast-paced, quick read, with beautiful prose, shocking twists, and an explosively fitting ending.
Love,
Becca
Have you read 5 to 1? What did you think? Did you like the alternating chapters in verse and prose? What did you think of the ending? DON'T LEAVE SPOILERS, PLEASE!